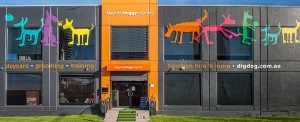 Our facility is 500 square metres located conveniently at the just off the Citylink & Westgate fwys, South Melbourne (next door to Hyundai & Holden City dealerships).
We have 6 on site parking spots for your convenience and once you see our building you wont be able to miss it ever again!
diggiddydoggydaycare® is set in a beautiful state of the art building with stunning Scandinavian style fit out and an inner urban nature filled fully air-conditioned playground for our pups together with a colourful mural painted by Gasworks resident artist Julie Squires.
Canine members in our indoor playground enjoy activities, exercise programs, supervised play sessions and of course, plenty of love and attention from dedicated and trained daycare attendants. Our playground floor areas have been covered by a hard wearing epoxy finish to maintain the highest levels of hygiene; ideal for play activity.
We keep a range of safe toys, balls, tunnels, platforms and treats on hand to entertain pups for the whole day, as well allergy free Snooza beds for rest times & snuggle times.
diggiddydoggydayspa is exactly that, a dayspa for dogs! Our amazing dayspa is designed to be a relaxing zen space. It is a fully climate controlled environment offering so many creature comforts. From essential maintenance to a personally styled full clip, our stylists in the diggiddydoggydayspa will tend to your dogs every whim in our crate free relaxed environment. Our spa has a delicious menu of organic products infused with essential oils for the most fussiest of dogs.
The dogs are "free range" in the spa area and there are many of our daycare clients who luuuuurve the extra attention they receive in the dayspa. Your doggy will feel revitalised and ready to take on the world!
A lot of effort goes in to make sure each of our doggy clients are relaxing into every service from a nail trim right through to a full clip. Your dog will receive massages and cuddles throughout the whole experience and all along receive behavioural training and reassurance training to help curb any anxious or fearful behaviours.
Drop in to the facility between 7.30am and 6.30pm weekdays to see what we're about!