Ally's Walk Sunday, 22nd November

Net's words
What a magnificent day to celebrate Ally Belly's wonderful life with her mates! We all met at the light rail Hester Reserve in Port Melbourne and made our way through the off leash parks, behind Beacon Cove and to Sandridge Beach where the dogs excitedly splashed and played on the beach. My companion was Jessie (Ally's beautiful daughter) who trotted along side me in her beloved mother's footsteps. Ally I'm sure would have been looking down at all her family & friends with glee!
We then made our way back to diggiddy in the gorgeous sunshine for some bubbly, sausages in bread and doggy treats with the cruisy tunes of Nick on guitar in the background. The dogs appreciated the coolness of the diggiddy playground floor on their tummy's after their afternoon of play with their friends.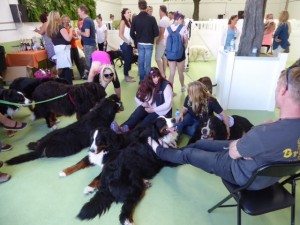 Taking a moment to look on at the pure happiness and joy on both the dogs and their peeps faces, dogs really do bring us together. Ally brought us together.
Thank you from the bottom of my heart for such a beautiful day dedicated to our pooches and my dear Ally Belly.
Donations to the Bernese Mountain Dog Club of Victoria's Health Research Fund and Guardian Angel Rescue Fund can made in diggiddy's reception or directly to:
Account name: BMDCV
BSB: 083758
Account no: 866965487
Use donation as the reference and then send an email to the secretary with a copy of the receipt to Claudia Guli, zacdidg@yahoo.com.au stating that you are donating the funds to the Health fund and Guardian Angels.
Thank you from Ally, Kebo, Nic & me xxxx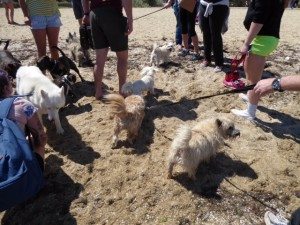 Nic's words
Just wanted to send out the biggest amounts of appreciation for all of the peeps & pups who joined in the Ally Tribute Walk yesterday (and of course all of those who were there in spirit and had us in their thoughts). Weather was amazingly perfect (thanks Ally) and the day was filled with loads of love, laughter, licks & kisses. Such a beautiful celebrations of the fabulous life of Ally & all those doggy angels who have come into our lives.
For those who missed out donating to the Berner Health Fund & Guardian Angel Rehoming Fund we will have the donation box in reception for 2 weeks.
Thanks to all involved in making the day so awesome including Nick Cushen for the brilliant tunes, you talented dude. Kim for her delicious mouth watering cupcakes. And all of friends, family and extended family of clients for all the lovin.