Book diggiddy's doggy friendly holiday rental 1 hour from Melbourne!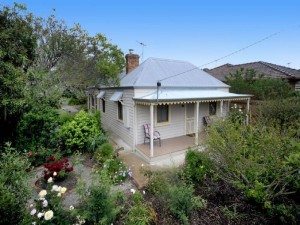 All Bookings:
We're so excited to announce that diggiddy has taken ownership of a very special historical location for diggiddy members to enjoy with their loving families and experience wonderful adventures at the gorgeous Bellarine Peninsula, the gateway to the Great Ocean Road, only 1 hour from Melbourne. With the arrival of this new extension to the diggiddy business, we would like to offer all of our clients a winter special of 15% off standard rates so you can cozy up together in front of the pot belly fire and spend your days at the pubs, cafes, and beach 400 metres away.
Built in 1872 by farrier Joseph Mulane, this gorgeous property nestled in a shady garden behind a neat picket fence, historic "Mulane Cottage" reflects the architectural and construction values of a bygone era. In all respects it is a picture postcard example of Victorian perfection. Perfect for a family holiday or a romantic weekend.
– Beautifully restored and renovated the property features light filled open-plan living area, modern kitchen and spa bathroom
– 3 bedrooms (2 x Queen Beds, 2 x Single Neds, plus fold out double bed in formal lounge room)
– The gorgeous bathroom has a large shower, full sized spa bath and toilet.
– Original fireplaces in the formal lounge and bedrooms
– Period features and history abound
– The 1000m2 approx. property features gorgeous established gardens
– "Mulane Cottage" is only 400 metres to the Portarlington town centre with its village atmosphere, sidewalk cafes and vibrant shopping precinct.
– Dog friendly
Portarlington
Drive past the surrounding wineries and olive groves or come across the bay by boat to Portarlington, a historic town and favourite holiday spot on the Bellarine Peninsula. Settle in for a few days by the water or set off along the Bellarine Taste Trail.
Looking out
Discover local history at buildings such as the National Trust Flour Mill, built in 1857, and the Ol' Duke, built in 1855, now a smart hotel and restaurant. Make your way to the northern tip of the Bellarine Peninsula and admire sweeping views of Port Phillip Bay, Melbourne's skyline and the You Yangs.
Hook, line and sinker
Enjoy a slow walk and a swim on the bay beach, kick back on the beautiful foreshore or treat yourself to a day out on the water. Bring your boat, join a charter or hire one by the hour and try your luck with the rod and reel. Prefer to stay on dry land? Bring a cuppa and throw a line off the pier. Finish the day with a feast of freshly harvested mussels straight out of the bay.
Entertain us
Take the kiddies for a ride on the Portarlington Miniature Railway, open the first and third Sunday of every month. Seafood lovers will enjoy the Portarlington Mussel Festival, a celebration of the local industry and fun day full of music, local wines, beer and, of course, plenty of mussels.
Things to do:
Portarlington Mill
Located just 300 metres from the beach, the Portarlington Mill was constructed in 1856 with rough local sandstone and Baltic Pine floors. The…
Terindah Estate
Visit this beautiful estate for brunch, lunch and wine tastings. Wines include sparkling, pinot noir, pinot gris, chardonnay, rosé, zinfandel and shiraz.
Bellarine Estate
Enjoy wine tastings from the Bellarine Estate and Portarlington Ridge labels along with beer tastings from the Bellarine Brewing Company's range.
Tuckerberry Hill Berry Farm
Tuckerberry Hill is located on the North East slopes of Murradoc Hill, overlooking Port Phillip Bay, Melbourne and the Heads.
Jack Rabbit Vineyard
Hop to it for sophisticated cool-climate wines, an award-winning restaurant, cellar door, tasting room, bistro-style cafe and stunning coastal views.
Scotchmans Hill
Enjoy views across Swan and Port Phillip bays while tasting pinot noir, an award-winning chardonnay, cabernet-merlot, sauvignon blanc and riesling.
*diggiddy members only.