Diggiddy Doggy Daycare TREATS CLIENTS THE BEST IN VICTORIA
Diggiddy Doggy Daycare in South Melbourne has won the 2011 Australian Achiever Award for Victoria's Animal & Pet Services & Supplies category.
Now in their 14th year, the Australian Achiever Awards are an independent, unbiased award system based on assessment ratings from companies' own clients – and are therefore an indication of a well run, healthy business, worthy of patronage.
The award focuses on seven criteria, namely: Time Related Service, Addressing Client Needs, Care and Attention, Value, Attitude, Communication and Overall Perception.
The criteria are rated individually in percentage terms and the final score is an amalgam of these. Anything above 80% overall is regarded as exceptional and reflects outstanding customer service.  A list of over 4500 businesses who have achieved this standard can be viewed at  www.achiever.com.au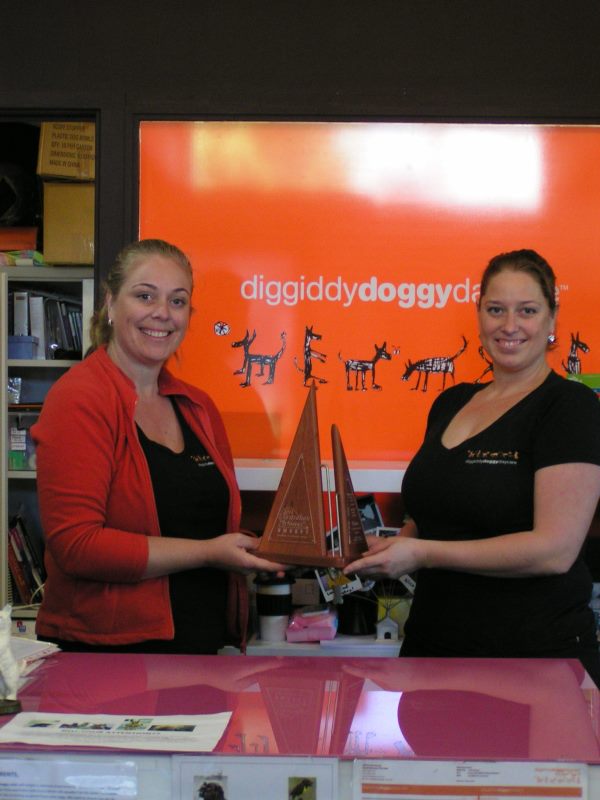 Diggiddy Doggy Daycare achieved a 97.78% overall score for Customer Service and Relations, topping all other Victoria Animal & Pet Services & Supplies businesses. The 2011 Australian Achiever Award proves Diggiddy Doggy Daycare delivers on the promise of customer satisfaction.
Owned and operated by Jeanette and Nicole Farren for four years, Diggiddy Doggy Daycare works with a team of 13. The business specialises in dog day care, grooming, Function Hire, and retail pet accessories. A special feature is their pick-up and drop-off taxi.
Some comments received from Diggiddy Doggy Daycare customers were:
They are exceptional at what they do and have always been able to meet my demands. They show great care for me and my dog so I feel that I leave him in good, safe, hands. The staff are very professional, friendly, approachable with excellent customer service and they are very knowledgeable about different dog breeds  They don't see this as a business, but as a passion.
I have a young Beagle who is very energetic so I take him because I want him to socialise with other dogs. All the dogs are supervised at all times by the staff who are caring, professional and friendly. Nicole is very knowledgeable about all breeds and her customer service is excellent. The premises are always kept very clean and the staff make you feel welcome.
I find the staff very friendly, professional, knowledgeable and perceptive. My dog attends five days a week so he is a fulltime dog and he just loves going there. They do some behavioural training and they have a full range of services available if you want them. All the dogs are always supervised and the customer service from the staff is excellent.
Thank you to all our clients for their constant support. This award is for you!